Austria Gambling – Law, Legality & Games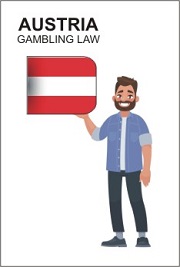 Austria is a lovely country that has given a few geniuses to the world. These include the likes of Mozart, one of the best composers in the world, Freud, one of the leading psychologists, and Arnold Schwarzenegger, who managed to become a bodybuilding superstar, an action movie star and a governor of California. Besides blessing the world with these individuals, Austria also has a link to the gambling industry as well. It is in this country that some of the largest gambling companies in Europe originate from. With that in mind, it's obvious that gambling is one of the most popular pastimes of Austrians.   
Is Gambling Legal in Austria?
Gambling is popular in Austria which is why many forms of it are legal. Both online and land-based premises cater to the needs of Austrian gamblers. However, all forms of gambling are strictly regulated by the country's government. The Austrian Gambling Act is the law that separates games of luck and games of chance as well the regulations they should operate by. Any operator not abiding by these regulations will face severe punishment.
Our Recommended casino
Legal Status Games Wise

Legal to Play For Players, licensed

Legal to Play For Players, Requires license

Legal to Play For Players, Requires license, currently state monopoly

Legal to Play For Players, Requires license

euro 3000/day Payout
Bitcoin,cryptocurrency accepted
Gambling Types Accepted in Austria
Since Austrians love to gamble there is a plethora of gambling forms available in the country. Naturally, casino games are legal in the country and the Austrians love to play poker along with roulette, blackjack, two aces, and baccarat. These are available in land-based establishments and on many gambling websites like baocasino.com. The lottery is another popular gambling form. Lotto together with pools, bingo, instant, class and electronic lotteries, number lotto, lotto with running numbers and Keno are specified under the Act to be legal. Other forms of lottery that are also played are online lottery app, hoax lottery games, charity lottery games, and other number lotteries similar to raffles. With so many ways to satisfy their gambling needs, it's clear why Austrians love to enjoy a good portion of their time gambling.
Minimum Age for Legal Gambling in Austria
Similarly to most European countries, the legal age for a person to gamble is 18 years old. People under this age aren't allowed to enter casinos and other gambling establishments and are also prohibited by law to be employed in such premises. The staff at these establishments must provide identity checks and are liable to losing their license if they don't adhere to these regulations. This goes for both land-based gambling establishments and online casinos. There's an exception to this rule when it comes to taking part in lotteries. A person must be at least 16 years old to participate in a lottery.
Gambling Laws for Gamblers and Operators in Austria
As mentioned before the operators have to abide by strict rules and regulations to provide their services. The Austrian Gambling Act provides with these regulations and the legal punishments that would follow in case any operator fails to abide by them. For an operator to provide gambling services they must have a license. When it comes to the lottery games the license usually lasts for 15 years unless it is specified otherwise. There are a few limitations to getting a license. A lottery games license can be granted to a corporation that has registered offices in Austria or the European Economic Area if the paid-up share capital is at least €109 million and finally, a license cannot be granted if there's a dominant influence from any shareholder whose regulatory ability isn't guaranteed. In addition to these requirements, managers with sufficient skill and knowledge need to be employed so they can operate the business according to the expectations of the license. Land-based casino operators have to fulfill similar requirements if they're to get a license with a slight change in the sum of the paid-up share capital whose amount needs to be at least €22 million. Their licenses also last for 15 years unless it's otherwise specified in the license. 
Finally, providers of online gambling services also need a license to operate. There are two ways online gambling can be offered and they are through the homepage of the sole concessionaire and over centrally connected terminals. In the first case, the Act doesn't have strict regulation so the provider needs to provide players protection and must have systems and facilities that prevent gambling addiction. In the second case, like in the first one, the legislation provides player protection. This means that minors aren't allowed to engage in gambling activities and only adults with sufficient proof of their identity are allowed to gamble. The licensee needs to provide supervision of those engaged in gambling activities and ban any individual or individuals who might become a potential risk.    
In addition to these strict regulations, gambling operators are also liable to pay taxes for their services. Lottery games are taxed at 18.5% up to 27.5% whereas online gambling from the homepage enabled in the country is taxed at 40% of the gross gaming revenue and online gambling via centrally connected terminals is taxed at 10% of the gross gaming revenue. Land-based casinos pay up 30% of their gaming revenue as tax and another 30% from the gross revenue from slot machines. If subject to a concession then the tax for slot machines is 10% from the gross gaming revenue without the VAT. Lucky for the players, the gambling establishments take all the burden and none tax is paid on winnings.
Gambling Commissions for Austria
The government of Austria is in charge of regulating the gambling activities in austria meaning no special regulatory bodies have been formed. The Austrian Gambling Act lists all the regulations regarding gambling activities. The Federal Ministry of Finance functions as a regulatory body and ensures that these regulations are enforced. The lottery market is organized as a monopoly meaning it's also entirely in the hands of the government that ensures a fair experience for all players. When it comes to provincial games with slot machines the provincial governments serve as regulatory bodies since these games don't fall under the Austrian Gambling Act.
Gambling Games Legal Status in Austria:
Poker:- Poker is Legal in Austria. Poker games are only available in 12 Casinos Operated by Casino Austria. For Playing Online Poker Win2day and Several International sites are available.
Bingo: – Bingo is Legal in Austria. Small gambling can be operated without a license; Small stakes live bingo games are also available. The Austria-based online gambling supersite, Win2day Offer various Bingo games to Austrians Players. Austrians Players also access foreign online Bingo platforms.
Lottery: – Lottery is a Legal and state monopoly in Austria. State lottery is also available online. A lottery platform is available for players outside Austria. Conversely, Austrian players can also participate in foreign Lottos.
Sports betting: – Sports betting is legal and widespread in Austria. Favorite type of Sports Betting is a Prediction of the outcome of Football matches. Betting Shops are also available in Austria, where Horse Race wagering also offers. To Operate Mobile and Sports Betting platforms require a license.