Italy Gambling – Law, Legality & Games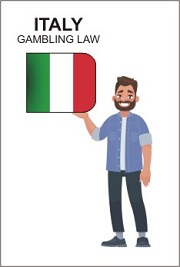 Italy is a country that's rich in culture which is one of the reasons why it's visited by millions of tourists each year. This is good for the country's economy. Italy is also one of the countries that recognize the potential of gambling. There are many economic benefits to it if it's properly regulated. So far the country has been doing well and is a host of several online gambling sites. Naturally, all land-based and online casinos and sportsbooks are operated under strict rules and regulations.
Is Gambling Legal in Italy?
Gambling online and offline is perfectly legal in Italy. In fact, it has been a favorite pastime among citizens since the Roman era. XII scripta is presumed to be the predecessor to backgammon and its popularity reached other European countries. In 1638, Ridotto, the first gambling house in Venice, was opened and games like bassetta and biribi, a game similar to bingo were played.
No entrance or membership fees were paid, which is a pretty modern outlook for such an ancient casino. However, all the games had an astronomically high house edge so only the rich would play them. These gambling houses were called casinos and they are the grandfathers of casinos all over the world. So the casino industry owes a lot to Italy, including the invention of bingo.
Our Recommended casino
Legal Status Games Wise

Legal, Requires License

Legal, Requires License

Legal, Requires License

Legal, Requires License

euro 3000/day Payout
Bitcoin,cryptocurrency accepted
Gambling Types Accepted in Italy
Since Italians love to gamble to this day it's evident why the country needed to limit the types of gambling allowed by law. Both online and offline casinos are legal. This means that games such as poker, blackjack, roulette and countless slot games can be enjoyed in a brick-and-mortar casino and on a casino site. In addition to the casino game services and online cricket betting, Italians love sports, football in particular and consequently love betting on it.
Sports betting is popular and legal as well. The types of sports betting allowed include fixed-odds betting, totalizer sports betting, and totalizer-based numeric games. One of the oldest and most popular types of gambling is betting on horse races which are allowed on the territory of the country. Bingo and lotto are also legal and are available both online (via. sites like baocasino.com) and offline. With that in mind, Italian gamblers have a lot of things to choose from to keep themselves entertained.
Minimum Age for Legal Gambling in Italy
When it comes to who is allowed to gamble, like most European countries, Italy doesn't allow minors to participate in gambling operations. Players need to be at least 18 years old to participate in the online lottery app or casinos. Moreover, all land-based and online casinos need an ID or a photo of it to confirm the age. Besides, the age some casinos also have a strict dress code that people need to abide by while others don't. Besides, some casinos have strict working hours while others, the majority, work 24/7.   
Gambling Laws for Gamblers and Operators in Italy
The gambling legislation is interesting when it comes to the rules and regulations for operators. According to the Italian Criminal Law, it's illegal to gamble no matter if it's organized in a private club or a public place. This law also makes a difference between games of luck and games of skill. Lotto, sports betting and other activities are considered legal and can be enjoyed without a penalty.
When it comes to casinos, Italy has restricted itself to five land-based casinos. They are the only places where anyone can play casino legally. Moreover, other terrestrial gambling services need a license to operate. According to the Stability Law in 2016 sports and horse betting shops along with betting corners need to have a license to be legal. This license lasts for nine years and costs €32, 000 for a gaming shop and €18, 000 for a betting corner. 
What makes the legislation interesting is that there's a limited number of casinos but slot machines can be found in abundance in bars, tobacco shops, gaming parlors, and shopping malls. Since ADM regulates the slot machines it decided that three types of gaming machines are to be available and they offer prizes in the form of money and small objects. They're all connected one network dubbed the ADM network so they can be regulated more easily.
Finally, Italy is the first EU state to legalize and regulate online gambling in 2006. To qualify for a license for online gambling an operator has to fulfill certain criteria such as to manage games in Europe with a turnover of € 1, 500, 000 in the past 2 years, to function at a high technical level and provide stable, secure and easy-to-use services, to have reliable administrative staff and be founded as a capital society, and finally pay € 350, 000 to ADM for technical management, supervision and administration. The number of licenses is also limited to 200.
Also, under law land-based casinos are liable to pay a 20% GGR tax and online casinos are submit to a tax of 25% of the gross gaming revenue. Online fixed-bets betting is liable to a tax of 20% GGR. As of 2020, the Italian government plans to spike the taxes on gamblers' winnings as well. The amount is to be 12% on winnings below €500. The new taxes are to have a variable rate to accommodate the rise of the winnings.  
Gambling Commissions for Italy
The ADM is the official regulatory body of the Italy. Its job is to regulate games and enforce regulatory provisions, issue licenses, supervise the performance and compliance by licenses, monitor the offer of gaming services, collect gaming taxes and tackle illegal gambling phenomena. Thanks to its watchful eye Italian players can be safe both on land and online since the regulatory body makes sure everyone has a safe gambling experience wherever they choose to enjoy it. Another regulatory body that assists ADM is SISAL that's in charge of regulating the national SuperEnalotto. This is a lottery with one of the lowest odds in the world and one of the highest jackpots so you can see why it requires its regulatory body.   
Gambling Games Legal Status in Italy :
Poker: – Online and Offshore Poker is legal with a gambling license. The taxation of poker and online poker is only 3%, which is very favorable.
Bingo: – Bingo is invented in Italy and is now very popular. For Playing Bingo games, both domestic and International companies need a license from the government.
Lottery: – Where gambling is legal, there is at least the National Lottery. The most frequent lottery is SuperAnalotope. It is one of the largest jackpots in the world. Both online lotteries and lottery agencies require licenses.
Sports betting: – Sports betting is legal in Italy with the license. Both domestic and international companies need Sports Betting licenses from the government.