All you Need to Know About Hold'em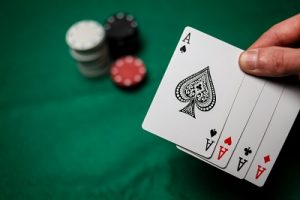 Casino Hold'em is a very popular casino card game, besides blackjack and baccarat, that is frequently played among casino fans, both offline and online. The game is pretty similar to the poker game variant Texas Hold'em; the key difference between the two games is that in Casino Hold'em you play against the dealer not against other players, so it might be a bit easy to play.
However, as a game of both luck and skill, you should learn its rules well and practice playing skills before you put your own money at risk. Generally speaking, if you are familiar with the basics of poker and poker hand ranking you should have no problems play poker online for money with Casino Hold'em. Thanks to its popularity and engaging gameplay, Casino Hold'em is featured at numerous land-based gambling facilities as well as top online gambling destinations.
How to Play Casino Hold'em
You place an ante bet and you and the dealer are dealt two face-down cards. Then, the dealer deals three community face-up cards. Afterwards, you have to decide whether to fold or call. If you call you place a bet which is twice the value of the ante bet. Then, the dealer deals two more community cards. Finally, cards are revealed and payouts are given based on the poker hand rankings. The highest ranked hand in Casino Hold'em is royal flush, followed by straight flush and four of a kind. Fourth best is a full house, followed by a flush. With standard rules, the house edge of the game is 2.16%.
Side Bets
In general, there are two side bets in Casino Hold'em and they are both based on the poker value of the player's initially dealt cards as well as the three community cards. In the first side bet, a flush or higher is paid 25 to 1, while a pair of Aces to a straight is paid 7 to 1. In the second side bet, a pair of Aces to a straight is also paid 7 to 1, but a flush is paid 20 to 1, full house 30 to 1, four of a kind 40 to 1, straight flush 50 to 1 and royal flush 100 to 1.
Strategy Tips
Unfortunately, there is no specific playing strategy chart for Casino Hold'em. It is better to say that the optimal strategy for the player is to rise 82% of the time and only in the worst 18% of hands they should hold. So, rise with cards of A/4 to A/A and K/7 to K/K and fold with cards of 2/3 to 2/7 and 3/4 to 3/7, without four to a straight.
In other words, the Casino Hold'em strategy can be reduced to playing most of the hands you receive. Players also should keep in mind that the classic poker strategy of bluffing and employing tactics that help you eliminate other players is absent. Therefore, the best way for them to beat the house and improve their odds is to keep playing and have a smart bankroll management.